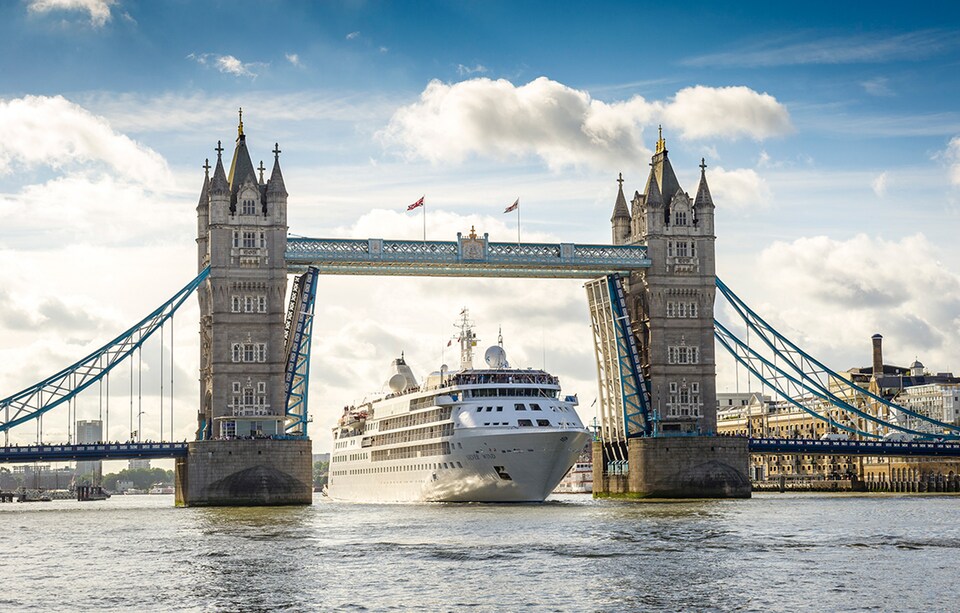 At CRUISE HOSPITALITY JOURNEYS TO EXCELLENCE (CHJE) we specialize in providing tailored training programs for cruise hospitality management to hospitality colleges and their students worldwide.
BY PARTNERING WITH US, hospitality schools gain access to industry professionals as lecturers, delivering online, on-campus, or onboard training experiences.
We also provide trainers/lecturers which are cruise industry professionals that can be hired for your college existing cruise management programs.
Our ultimate mission is to revolutionize hospitality education, be the leader in cruise hospitality, and provide equal opportunities for students to choose their career path in land or sea.
Cruise Hospitality's Journeys to Excellence are multi-country study program experiences, tailored specifically to hospitality management undergraduate and postgraduate students around the world, emphasizing comparative academic examination, hands-on hospitality field experiences and mastery of cruise industry specific hospitality management. Our different programs offer the opportunity for all hospitality management students to choose from studying in their college campus, online, or onboard a luxury cruise ship.
Our Cruise Hospitality Students get to discover remote islands, visit different countries, study and have fun in their journey of becoming a certified Cruise Hospitality Manager. With each new country, the students have new experiences, new things to learn, new foods to try and new ways of looking at the world. They are able to compare one way of living to another, just in a single seaside journey from one place to the next.
They get opportunities to meet with cruise line management leaders and teams such as the hotel director, the f&b director, the restaurant manager, the executive chef, the pursers, the housekeeping teams, have a tour at the galleys/kitchens onboard and more. At the meantime of course all our students get to have fun while taking part of our educational journeys through all different classes, cruise ship venues and discover hospitality as they have never experienced it before!
One of our ´Journeys to Excellence´ programs, is the 'Certificate in Luxury Cruise Hospitality Management'. The program integrates seamlessly into hospitality management degree curriculums or can be offered as a standalone course.
JOIN US in building and developing the future luxury hospitality professionals for the cruise industry worldwide!

Certificate in Luxury Cruise Hospitality Management
(Program can be either integrated as a module into your hospitality management degree diplomas or can be offered as a standalone course)
A Journey to Excellence & Fun
Summer 2024, Fall 2024 
Part 1 of The Journey – Obligatory
It all starts from your college campus where a 40 hours cruise course will be delivered for Luxury Cruise Hospitality Management. This will be enough to excite your students and prepare then for their  next onboard adventure on a luxury cruise ship.
The Luxury Cruise Hospitality Management module is conducted in English, by a Cruise Line professional who is directly involved in Cruise Management operations and recruitment. The  teaching  approach  is friendly and customized; all participants are encouraged to find the best way forward for the achievement of their personal objectives.
Dates

Duration &Lecturer

Summer 2024 and Fall 2024

2 weeks, 40 hours

Cruise Industry Executives
General Objective
The Luxury Cruise Hospitality Management module is designed to introduce the hospitality students to the world of cruise hospitality business, including all facets regarding operations onboard. The module highlights on the difference between hotels and cruise line modus operandi —the onboard equivalent of Food and Beverage and Rooms Divisions operations — including  the applications of supporting disciplines such as Sales and Marketing, Guest Service, Human Resources, Accounting and Control.
CONTENT
Module 1  –  The Cruise Line Industry
Introduction to the Cruise Line Industry: floating hotels/cruise ships, cruise lines & working environment.
Module 2  –  Organizational Chart
Onboard crew positions, crew structures, recruiting process, qualification requirements, STCW.
Module 3  –  Cruise Hospitality: F&B
Evolution and modern perception of luxury cruise hospitality. F&B functions including purchasing, ordering, receiving and control.
Module 4  –  Guests Satisfaction
Guest services: handling complaints, personalizing services, problem solving techniques. Be a Guest and understand the guest's experience onboard a luxury cruise ship.
* Dynamics of the  Cruise Industry
* Working and Living On Board
* Elements of Service Excellence
* Skills and Essential Work Ethics
* Living and Working in a Multi Cultural Work Environment
*Upon completion of the journey students receive a CERTIFICATE IN LUXURY CRUISE HOSPITALITY MANAGEMENT by Cruise Hospitality Innovation Centre based in London UK.
Fees are including program's tuition, handouts & certification from Cruise Hospitality Innovation Centre in London, United Kingdom. Excluded are travel and visa costs.
A FREE CRUISE for the 2 best Certified Cruise Students!
After the certification by our London Innovation Centre, the 2 students that have achieved the highest grade and have gotten the best evaluation by our executive cruise industry professor, will win a FREE CRUISE onboard a luxury cruise ship in Europe and get to experience in first hand luxury cruise hospitality!
The cruise includes shipboard accommodations, ocean transportation, entertainment and daily activities, on-board meals and some beverages, port charges. It does not include shore excursions, personal expenses, gratuities, or alcoholic beverages. Government fees and taxes are not included.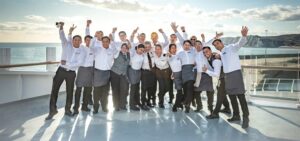 Please use the contact from below and we will arrange a call with your school to explain more details for the benefits of the program and the potential additional revenue stream that can create for your institution.
.
Interested in this Cruise Course? Please Contact Us below
PART 2 of the Journey – OPTIONAL for all students
After the first part of your Journey is completed, now is the time to take it one step further and ´make your feet wet´ as we say in the seafarers language and get onboard a luxury cruise ship!
PLEASE NOTE: THIS PART OF THE JOURNEY IS OPTIONAL AND ONLY THE STUDENTS THAT REALLY HAVE IT IN THEM FOR TRAVELING THE WORLD SHOULD SIGN UP FOR THE ONBOARD CRUISE EXPERIENCE. SPACE IS LIMITED AND ALL STUDENTS ARE WAITLISTED BEFORE CONFIRMING THE CRUISE!
While students will be cruising and visiting different destinations almost every day, a 4 hours a day training course will be conducted with our experienced Professor of cruise hospitality and currently Hotel Director onboard. During their free time onboard they will be able to mingle around the hotel areas of the ship and get to experience in first hand the operations onboard. From housekeeping services, restaurant operations, galley/kitchen, reception, entertainment  and more, the ship is the students onboard campus for one week.
Cruise Itinerary
DATES To be confirmed – WAIT LIST
SUMMER 2024 & FALL 2024
Day-by-Day Itinerary:
Day
Ports of Call
Arrival
Departure

day

1
Barcelona, Spain

Not Applicable

6:00

 PM

day

2
Palma De Mallorca, Balearic Islands

8:00

 AM

4:00

 PM

day

3
Marseille (Provence), France

9:00

 AM

6:00

 PM

day

4
La Spezia (Florence & Pisa), Italy

8:30

 AM

8:30

 PM

day

5
Civitavecchia (Rome), Italy

7:00

 AM

8:00

 PM

day

6
Naples, Italy

7:00

 AM

8:00

 PM

day

7

At Sea

Not Applicable

Not Applicable

day

8
Barcelona, Spain

5:00

 AM
Highlights:
20 Dining options including El Loco Fresh, Portside BBQ, Chops Grille, Izumi, Giovanni's Table, 150 Central Park and more.
2 rock-climbing walls, 2 FlowRider surf simulators, 9-deck-high zip line, ice-skating rink, basketball court and more.
Splashaway Bay, Perfect Storm waterslides including Cyclone and Typhoon, and The Ultimate Abyss tallest slide at sea.
High-diving Aqua Theater, Ice-skating Shows, and Broadway -style musical "Cats."
Your Journey to Excellence Benefits:
Connect with cruise Industry executives
Numerous class choices
Amazing cruise onboard a luxury cruise ship
Welcome onboard party
Visit different European destinations
Farewell graduation ceremony
*Certification from London UK Cruise Centre
A Free cruise ruffle at the end of the journey!
*Upon completion of your journey you will be certified as a LUXURY CRUISE HOSPITALITY EXPERT by the Cruise Hospitality Centre based in London UK. There will be a last day graduation party onboard with a ceremony including a special dinner and a ruffle for a FREE CRUISE to be offered to 1 lucky student!
The cabin will be modern and cheery whether you choose a more economical inside cabin or a room with a view. The students can even have their own private balcony if they choose. Each cabin has two lower beds (which can be arranged into a Queen or Twin bed), a TV, safe, refrigerator and bathroom with a shower and/or tub. Cabins which are designed for the physically challenged are also available.
For double cabin students get to share their room with a fellow student, surely a space to share all their cruise experiences after an amazing day in port or during the times at the pool onboard. For those that want more privacy, a single cabin is also available for you to enjoy this unique journey.
Room Type
Double
Double with balcony
Inside/outside
TBC
      TBC
The cruise includes shipboard accommodations, ocean transportation, entertainment and daily activities, on-board meals and some beverages, port charges. It does not include shore excursions, personal expenses, gratuities, or alcoholic beverages. Government fees and taxes are not included.
A deposit of 500€ per person is needed to guarantee your reservation. Final payment will be due no later than the 2nd of March, 2024. Payments may be made by bank transfer (payable to Cruise Hospitality), or by major credit card.
Prior to cruise, the non-refundable, per-person cancellation policy is as follows:
Before 76 days: 100€ per person
75 – 46 days: 50% per person
45 – 16 days: 75%
15 days to sailing: 0
Journey to Excellence costs breakdown:
40 hours Campus Course + UK Certification
1 week Cruise onboard
20 hours Onboard + UK Certification EXPERT LEVEL
                  TBC
 TBC
              TBC
*Students have the possibility to choose only the 40 hours campus cruise hospitality course and not continue to the cruise onboard experience. Please note that students can NOT choose only the cruise onboard option as the 40 hours campus course is a requirement to pass before you move to the next level of the Cruise Onboard experience.
Interested in this Cruise? Please Contact Us below